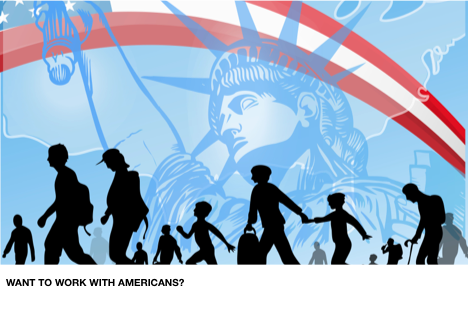 If you're an Indian and want to land a great job or promotion, you'll need strong capabilities (or some way to demonstrate your potential to develop those capabilities such as completing a relevant education). Whether you are just starting your career, or considering your next career move, you may be wondering if you'd like to work with Americans.
And if you would, are you wondering what you can do to stand out among thousands of equally qualified candidates? (HINT: you should because there are many many qualified candidates who want a position working with Americans). Applying for your dream job is rarely enough. So how will you stand out?
Well, speaking solid English is a must, but it's not enough. Even if you attended an American university, you probably don't know how business is done in American corporations to succeed without learning as you go. When American bosses have a choice among candidates, why would they decide to take a chance on you over someone already immersed in American culture? Let's explore.
Why would some Americans have issues with Indians (or other 'foreigners')?
While some Americans object to working with people from other countries, most people are very tolerant, and open to exploring your qualifications as long as you act as expected.And unfortunately, many (hopefully far fewer) are not inclined to engage with anyone who doesn't match their skin, politics, or religious beliefs.
That said, even among the most tolerant people tend to prefer to work with people who are more 'like them', which is why you see so many white males running American corporations. Fortunately, over time, that will change where corporations better reflect the total diverse population within the United States.
If you are NOT accustomed to how Americans do business, you could be seen as 'too different', and for no good reason other than it will take your employer or client more time to train you. How we view time, is a big culture difference between India and the United States so finding ways to save your employer or client time is a great way to improve your opportunities to earn your dream job.
How to Resolve Culture Differences
If you learn how to behave more like Americans, you can increase trust among potential employers and earn you an interview, and hopefully a new position. Why is that? Learning how to adapt and tuning your behavior to Americans will make it easier for them to work with you, because it will save them time, and avoid potential embarrassment for everyone.
Key US-India Culture Differences
In my experience, a few key culture differences between how business is done in the United States and India includes:
Sense of time - fixed and linear vs. fluid and cyclical
Communication style - direct vs. indirect
Social status - meritocractic vs. hierarchy
Information sharing - written vs. oral
Understanding the differences in mindset and expected behaviors can help you adapt your behavior and make it easier to successfully engage with Americans.Each of these are described more in my blog titled Key US-India Culture Differences that can Impact Your Ability to Qualify for an American Client-Facing Role.
These are the key differences I've learned in my experience as an American executive working with Indians. Do you have examples where these issues have impacted you?What other culture differences are creating challenges for you?
Take control of your success and command career by learning the basic business protocols used by Americans. Check out my other blogs:
How to increase customer satisfaction with Americans by reducing friction
Key US-India Culture Differences that can Impact Your Ability to Qualify for an American Client-Facing Role
How to demonstrate you are a 'Professional' to Americans
Strategies to Land a Job with Americans
Happy job hunting!
Careen Foster is the owner and educator at American Business Basics who provides online courses to help Indian professionals learn how to effectively work with Americans. You can also follow me on Facebook at American Business Basics.